Saturday, thousands gather in major cities across the United States to denounce the violence, hatred, and bias against Asian Americans, who have seen a surge in brutal attacks amid the pandemic. Organized by several social groups and youth leaders, these rallies have a clear message "Stop Asian Hate".
Here are a few notable moments from the rallies.
Los Angeles – March 13th // Little Tokyo
With the surge of attacks against Asian Americans during the pandemic, hundreds gathered in Little Tokyo on Saturday to protest against the violence and show support for the Asian American and Pacific Islander communities.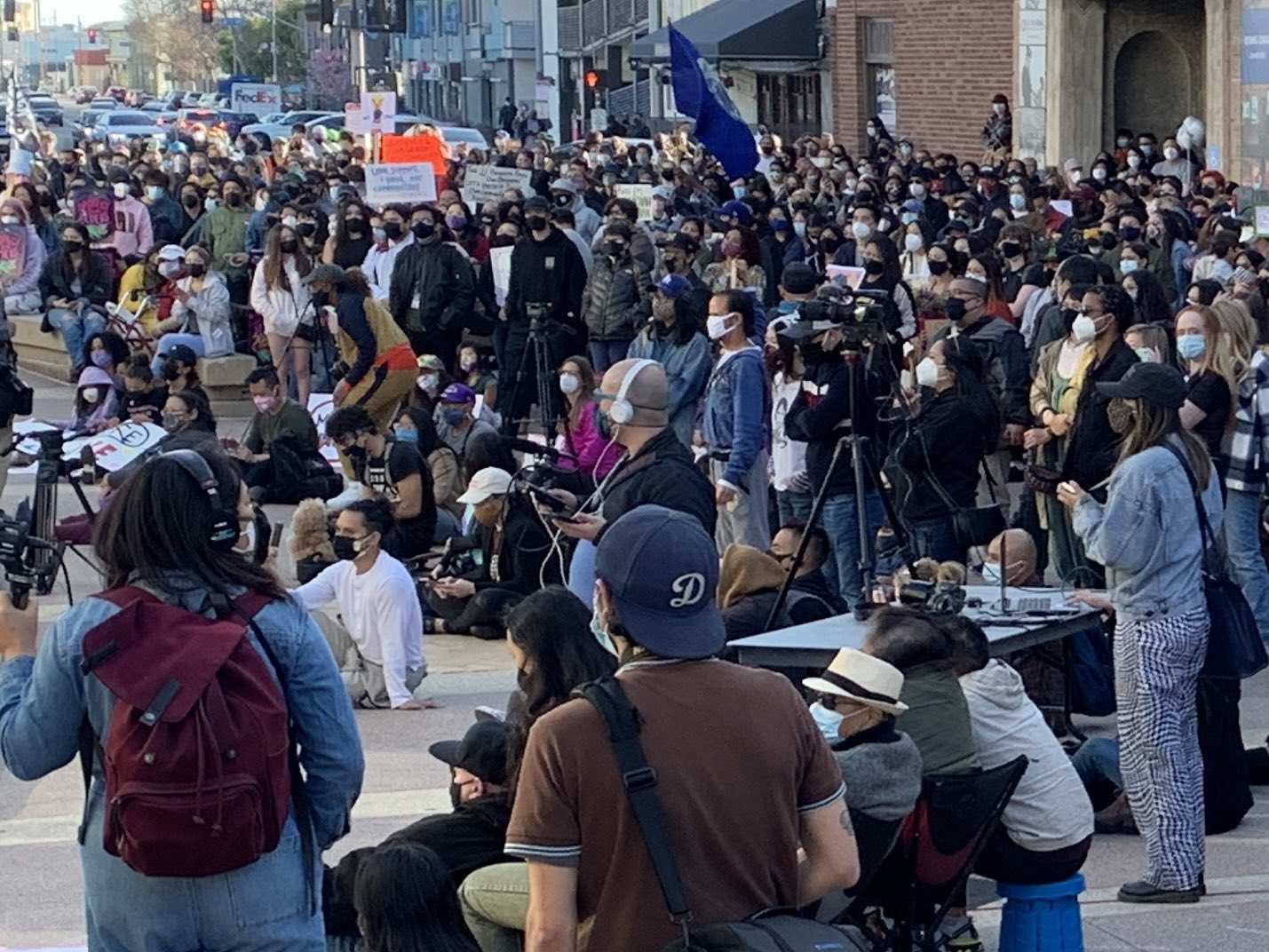 The rally, called "Love Our Communities: Build Collective Power," was organized as a space to "meet, collaborate, and build with grassroots organizations doing direct work in Los Angeles Asian American communities."
Saturday's rally was also intended to be a space for healing. Tanny Jiraprapasuke took to the steps of the museum to share her experience with a verbal attack on the Gold Line early in the pandemic.
A man went on a tirade for about 15 minutes as she stayed frozen in her seat, listening to how every disease came from China. In the ensuing months, she's been nervous going out in public, yet she expressed forgiveness for the man and read a tender letter she'd give him if she ever saw him again.
"I saw the pain that overtook you and understood because it is the same pain that I see in all of us who have been dismissed, underestimated, or pressed, oppressed and abused by a system that denies our human dignity"
She wrote about how he was wearing an L.A. Kings T-shirt, and how she could tell he was a true Angeleno. "That's enough to tell me that we have more in common than what sets us apart," she said to applause.
I'm in Little Tokyo where a rally against anti-Asian hate has started. It's being hosted at the Japanese American National Museum. This courtyard is where Japanese Angelenos during WWII were rounded up before being put on buses for camps. pic.twitter.com/Ad0wWwSg0y

— Josie Huang (@josie_huang) March 14, 2021
The rally also helped raise money for the Asian Americans and Pacific Islanders Community Fund, which is an initiative to help those affected by recent violence.
Boston – March 13th // Boston Common 
Several hundred protestors gathered at the Boston Common on Saturday to call out the rising attacked on Asian Americans across the country.
Harvard Student Ryan Doan Nguyen, 18, helped organize Boston's Stop Asian Hate rally, one of many held around the country protesting against the attacks on Asian people during the coronavirus pandemic.
Nguyen said he wanted to help create the event after reading a story about an 84-year-old Thai immigrant who was fatally attacked a couple weeks ago in late January.
"I should not have to worry that my grandmother will be set on fire while putting out the trash. I should not have to worry that my grandpa will be slammed to the ground and killed on his morning walk. I should not have to worry that my uncle will come home from the subway one day slashed across the face."
An organization dedicated to tracking hate crime incidents nationwide, Stop AAPI Hate, announced Tuesday that it had received 67 reports of anti-Asian hate and discrimination in Massachusetts during 2020.
Seattle – March 13th // Chinatown
Hundreds of people gathered at Hing Hay Park in Seattle's Chinatown this past Saturday to protest the violence and abuse directed at Asian Americans during the COVID-19 pandemic.
Former Washington Gov. Gary Locke, elected as the nation's first Chinese American governor in 1996, led the crowd in a chant of "Hate is a virus!". He recounted the history of racist and exclusionary policies at all levels of government directed at Asian Americans, who have "always been treated like foreigners" and scapegoated.
"This violence against Asian Americans, and especially our elderly, has got to stop. We cannot scapegoat, blame Asian Americans for this virus. Hate is a virus." – Former Washington Gov. Gary Locke
Annie Zhou a long time Seattle resident says the neighborhood has felt like home, until a recent random violent attack, which sent two people to the hospital. Seattle Police's Bias Crimes Unit is investigating that case.
"That's changed my way of living the last couple weeks. That's something that we shouldn't have to do," she said.
"I'm tired of having to validate and explain our oppression because people do not see it as often, and I hope now with this coverage, and the national rise in hate crime, and the documentation of it, that more people are aware of it,"
Zhou says she is rallying and marching to fight for a change, so that everyone can feel safe.
Resources to help with the Asian hate crimes:
Asian Americans Advancing Justice – AAJC develops projects, training, education and advocacy to advance civil and human rights for Asian Americans.
Stop AAPI Hate: The Stop AAPI Hate reporting center tracks and responds to incidents of hate, violence, harassment, discrimination, shunning, and child bullying against Asian Americans and Pacific Islanders in California and, where possible, throughout the United States.
Welcome to Chinatown to offer financial relief to affected businesses, and spreading the word to your communities.
Follow us @zobapress for updates on the next #StopAsianHate rallies!