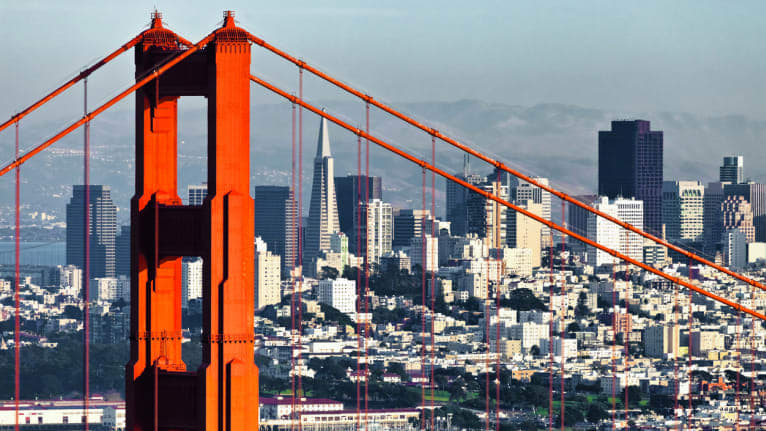 San Francisco is known for its amazing variety of Asian food and restaurants. With ~40% of the city's population being Asian or Pacific Islander descent, there's no doubt that this city is home to some good Asian food. Here we've gathered the best of the best just for you!
1. Golden Gate Bakery ($)

1029 Grant Ave, San Francisco, CA 94133
(415) 781-2627
Starting off at the top of our list is one of the most popular Chinese bakeries in Chinatown, San Francisco. Locals and tourists line up at Golden Gate Bakery to get a taste of their famous custard tarts and other homemade Chinese goodies. You know a place is good when they always have lines out the door. My personal favorites are the char siu baos (bbq pork buns) and egg tarts. Tip: Bring cash – they don't take credit cards!
2. San Tung ($$)

1031 Irving St San Francisco, CA 94122
(415) 242-0828
Just get the San Tung dry fried chicken wings. Just go try it – trust us. Warning: your taste buds' standards for chicken wings might forever change after eating these.
3. Marufuku ($)

1581 Webster St Ste 235 San Francisco, CA 94115
Pre-Covid, Marufuku was almost always busy. But, the wait was always worth it. Our favorites are the Hakata Tonkutsu and Chicken Paitan! The broth is always on point – not too salty or bland – leaves a smile on our faces 100% of the time.
4. Farmhouse Kitchen Thai ($$)

710 Florida St San Francisco, CA 94110
Making a trip out to the Mission? Don't forget to grab some Farmhouse Kitchen Thai! Their Samosas are great. Their Green or Red Curry hits the spot. This restaurant is one of the few where I can confidently, randomly order anything off the menu and be satisfied. Tip: Try to make a reservation if you can! It gets pretty busy here.
5. Ryoko's ($$)

619 Taylor St San Francisco, CA 94102
Next up, we have Ryoko's, a Japanese sushi bar located in the heart of downtown San Francisco. Ryoko's is famous for its welcoming service, a DJ that plays Japanese hip hop, and comfy vibes. Not only do they have great taste in music, but their fish and dishes are truly one-of-a-kind. My personal favorite is definitely the Volcano Roll. If you're looking for a place to enjoy sushi with a charming ambience, Ryoko's is a must-try.
4. Ebisu ($$)

1283 9th Ave San Francisco, CA 94122
(415) 566-1770
Ebisu is a Japanese restaurant and sushi bar known for its fresh and reasonably priced sushi. Every single sushi roll has its own unique ingredients that make each one magical. Their chirasi bowl is also perfect for on-the-go or to take to the park.
7. Nabe ($$)

2151 Lombard St San Francisco, CA 94123
(415) 613-9288
Nabe
is a pretty low key spot nestled in the Marina, but the Japanese Shabu is a must try! Their Wagyu beef paired with their miso broth is so tasty (+wash it down with a nice, cold Sapporo!)
8. Zzan ($$)

643 Post St San Francisco, CA 94109
(415) 872-9977

Had a good night out on Polk Street? Stumble (literally) a few blocks down to Zzan for some solid bibimbap and soondubu. Food tastes pretty good when you're sober, but it definitely becomes a solid 11/10 when you got the drunchies. Thank you Zzan for being one of the few late-night spots around town – you the real MVP.
9. Grand Hot Pot Lounge ($$)

3565 Geary Blvd San Francisco, CA 94118
(628) 222-7432
Combine your favorite things in life all in one place Grand Hot Pot Lounge: All You Can Eat Hot Pot, All You Can Beer/Sake, and Karaoke/KTV. Grab a few friends and try not to go too hard on the drinking. Or the Tong Hua.
10. R&G Lounge ($$)

631 Kearny St San Francisco, CA 94108
(415) 982-7877
R&G Lounge serves family-style, Cantonese food that is perfect when you're eating out with friends & family. Whether it's for a family celebration, birthday dinner, or business meeting, this spot is perfect for various occasions.
11. Mochill Mochi Donut ($$)
1737 Post St Ste 395 San Francisco, CA 94115
If you're in Japantown, stopping by Mochill Mochi Donut is a must. Mochi donuts are donuts made with glutinous rice flour. These donuts are very popular in Japan for their unique texture and delicious flavors. Now, mochi donuts are becoming more popular in America. Why not see what the hype is all about, stroll through Japantown in SF, and get a bite of one of these cuties?!
12. Miss Saigon ($$)

3345 Grand Ave Oakland, CA 94610
(510) 835-3474
Don't let the Yelp reviews fool you. Miss Saigon probably has the best Pho in Downtown San Francisco. Whether you're feeling hungover or just feeling like having Pho, this will never let you down. Warning: Miss Saigon is in a sketchy part of town – we warned you!
Let us know if we missed any of your favorite restaurants in the comments below! Also, if you want more articles like this, check out a similar guide to Asian food in Los Angeles!