Does your family do this?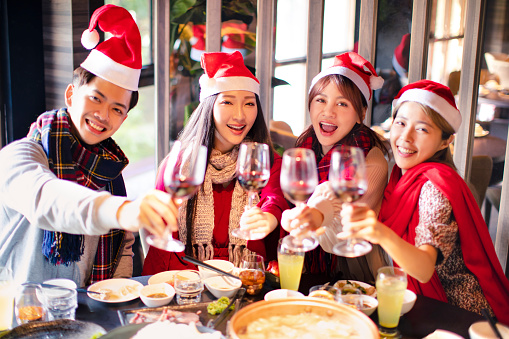 Asian-Styled Christmas Dinners
If you've ever been to a Christmas dinner at an Asian household, you'll notice the food looks a little different than the traditional Christmas food. Instead of traditional Christmas dinners, Asian families like to serve their own Asian dishes – chow mien, egg rolls, papaya salad, pho, hotpot, dumplings, duck, roast pork, rice. And for dessert – fruits, pandan cakes, jello, chè, halo-halo, mochi. Sound familiar?
Making Way Too Much Food
Asians are notorious for making way too much food during parties and celebrations. Even for small parties, there can be enough food to feed an army for the next year. Food is a way for Asian families to express their love and care for each other. And, at least you'll never go hungry.
Karaoke
If you live with an Asian family, you'll know that Asians love karaoke. Rather than Christmas carols, Asian music will be playing, and  there will mostly likely be karaoke. The Asian culture is very community oriented, and they highly value family relationships. Karaoke is a favorite social activity for Asian families to connect with their loved ones and express themselves.
Incorporating Asian Decor

Many Asian families like to incorporate their own cultural decor and influences in their holiday decorations. In an Asian household, you might see an occasional lantern ornament or the lucky cat with a Christmas hat. If you have a Chinese family, there might be more red and gold decor that symbolize luck and fortune to prepare for the upcoming Chinese New Year. Nonetheless, these decorations only spice up the holidays.
Saving Wrapping Paper
You know what, wrapping paper can get expensive, and saving wrapping paper can also help save the environment. This is a life hack to not only save the Earth, but also save your wallets.
Lai Sees
If you come from a Chinese family, you'll know that lai sees, or red envelopes, are a common gift among the older family members. Lai sees are special red envelopes that contain money, which usually act as a monetary gift given on special occasions. The red color symbolizes luck and good fortune. It's not uncommon to be given a red envelope or monetary gift for Christmas in a Chinese household.
Recycling Gifts
We all know an Asian mom that loves to recycle those generic gifts you have lying around the house. They'll make sure you don't open that box of chocolates so they can pass it on to someone else.
Cleaning the House Super Early
When the holidays are approaching, Asians tend to prepare for Christmas by cleaning the house weeks, or even months before the actual day. Don't be surprised if your mom or dad starts deep cleaning for the Christmas party before December even arrives.