If you don't already have an air fryer, you should know that it will change your cooking habits forever. But the best part? It's especially great for a variety of Asian recipes! Here are 14 Asian Dishes For Your New Air Fryer In 2021.
This air-fryer Korean chicken recipe will have you drooling off the smell alone. Marinated in your choice of soy & garlic sauce or sweet & spicy sauce, this dish is best served with some pickled radish or kimchi!
Recipe: Korean Fried Chicken
Because of your new air fryer, cooking seafood has never been easier. Thankfully, this savory recipe does not contain too many ingredients and is a perfect meal to serve for dinner!
Recipe: Cod Fish With Ginger Scallion Sauce
To any vegans out there, don't worry! We got you covered as well. This air fryer vegan korokke recipe is simple to follow and a perfect treat to snack on.
Recipe: Vegan Korokke 
These pastry wrapped rice cakes are the perfect comfort food. Dessert just hits differently with this soft and flaky treat. All you'll need is chinese rice cake (nian-gao), pie crust, and some egg wash.
Recipe: Pastry Wrapped Rice Cakes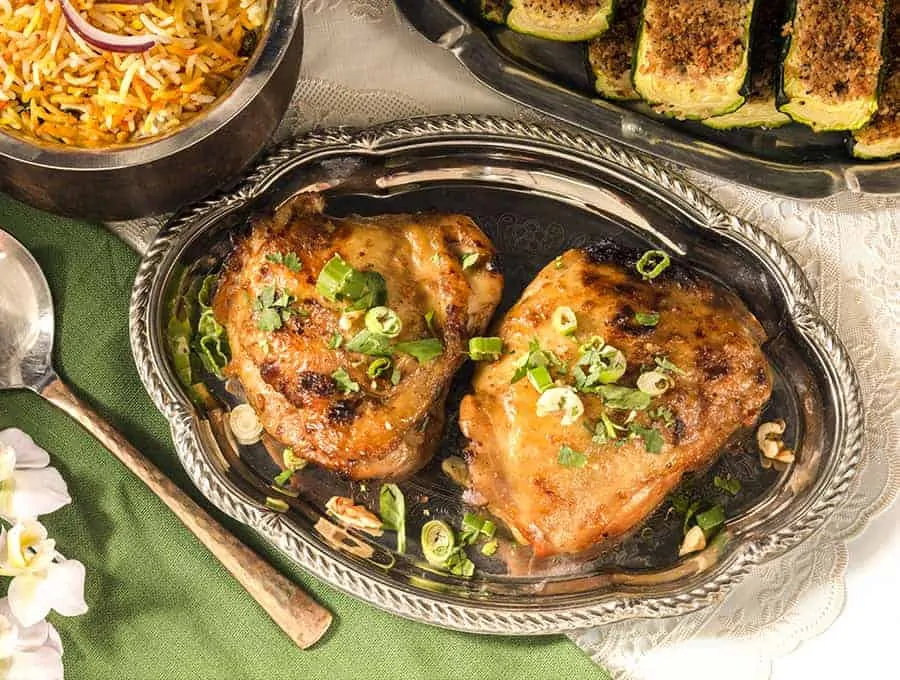 With a chicken marinade consisting of peanut butter, sriracha, soy sauce, sweet chili sauce, lime juice, and salt, all you have to really do is to let the air fryer take care of the rest!
Recipe: Thai Peanut Chicken
Regarded as a popular Indian appetizer, this onion pakoda recipe is both a chewy and addicting snack!
Recipe: Onion Pakoda
Been a while since you've had Korean BBQ? No worries! With the power of an air fryer, you can easily bring K-BBQ to your very home. In particular, this bulgogi pork belly recipe is so, so delicious and definitely worth cooking.
Recipe: Bulgogi Pork Belly
Do you have a sweet-tooth? If so, then this tapioca cake recipe is perfect for you. Sugary, soft, and scrumptious… you can't go wrong trying out this recipe.
Recipe: Tapioca Cake
These tender, juicy pork chops will literally melt in your mouth. That's how good these are. If you want to keep it traditional, eat this with sunny-side up eggs, some spring onions, as well as nuoc nam otherwise known as Vietnamese dipping sauce.
Recipe: Vietnamese Lemongrass Pork Chops
This lumpia recipe is all about being on this planet for a good time and not a long time. With an estimated time of 35 minutes to prepare and cook, this recipe is great for satisfying any Filipino cravings. Lumpia also works great for leftovers!
Recipe: Lumpia
These chicken cutlets are best served with a cup of rice and a bit of tonkatsu sauce on the side. Yum!
Recipe: Japanese Chicken Cutlet
Here's a nice, healthy eggplant air fryer dish! Nice part about this dish is that the clean-up is quick and easy!
Recipe: Spicy Chinese Eggplant
Chop up some tofu into cubes, fry it, and then drizzle it in this amazing sesame sauce. This sauce only requires brown sugar, soy sauce, ginger, sesame oil, water, corn starch, and sriracha. Finally, be sure to sprinkle in some sesame seeds as a final garnish.
Recipe: Crispy Sesame Tofu
Your air fryer will be perfect for this crunchy, delectable Taiwanese Popcorn Chicken recipe! Also, consider using sweet potato starch if you want some extra crunch.
Recipe: Taiwanese Popcorn Chicken
If you enjoyed this article, you should also check out the "5 Most Popular Japanese Snacks You NEED To Try!" Comment below on which of these recipes you would like to try!